Hemper.co – Subscription Boxes for Stoners with Amazing Products
Imagine you are organizing a party and have run out of smoking tools. The late-night rush to the stores, wasting your party time and more such hassles can be avoided with Hemper. This one-stop-shop is the best place to get your regular monthly smoking box for all occasions.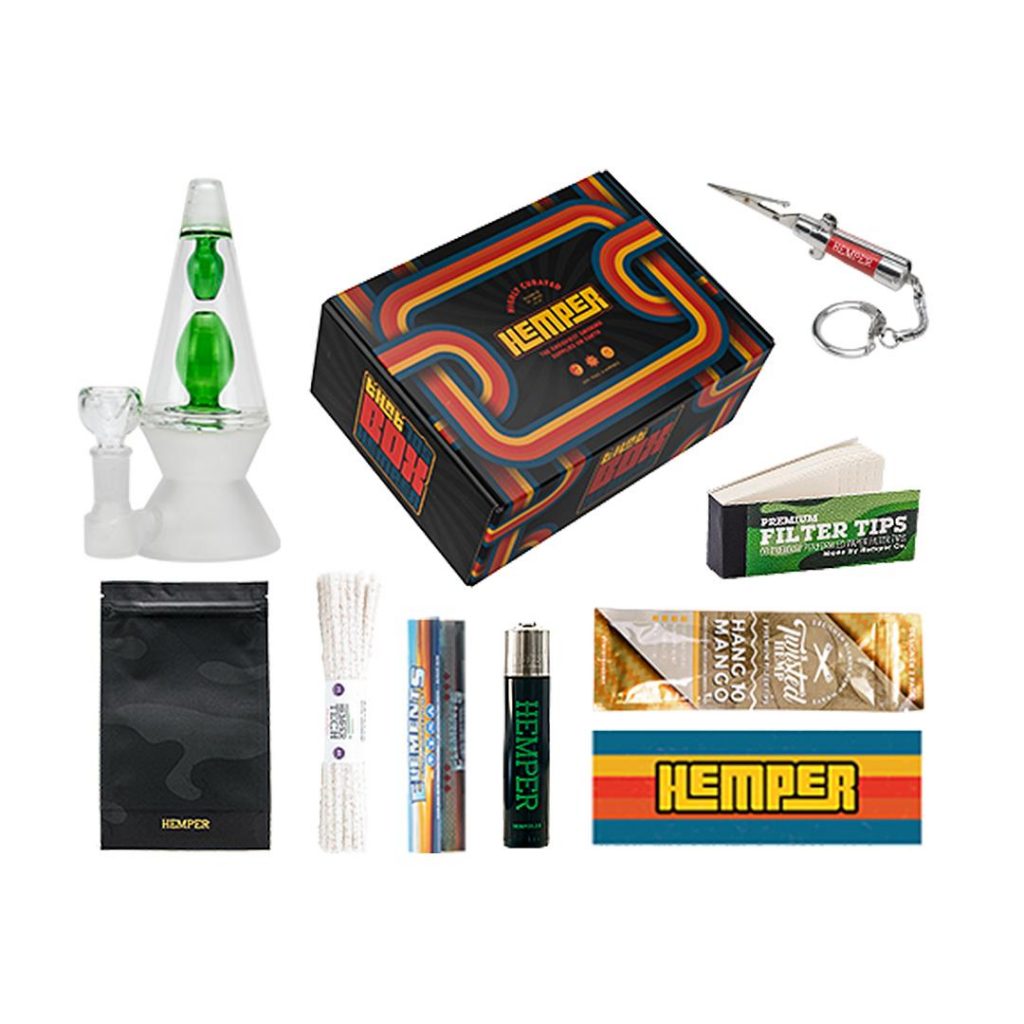 Hemper Lava Lamp Bong
Hemper Filter Tip Booklet
Hemper Switch Blade Joint Clip
Hemper Tech Cleaning Bristles
Smell proof Storage Bag
Assorted Rolling Papers
Assorted Twisted Hemp Wraps
Assorted Clipper Lighter
1 Hemper Sticker
What does the company Hemper do?
Hemper is a company with innovative practices based in New York which sells marijuana smoking accessories. Founded by Henry Kochhar, Bryan Gerber, and Ravjot Bhasin they deliver their subscription boxes worldwide. Whether you are a heavy or light smoker, their boxes offer hand-selected products to ensure you the highest quality materials for an amazing smoking experience.
They offer monthly subscriptions for boxes and these include items like grinders, tips, and lighters.
What goes into the subscription boxes from Hemper?
You get hand-picked products every month which will keep you guessing. No worries about the quality and worthiness as you get much more variety and quality than your money's worth. You can opt for any of the following:-
Hamper Pack
The Hemper Box
Filled with 10+ essential products for your smoking needs, contains a mixture of both glass and paper products and their unique, handpicked glass offered at Hemper. It is only slightly costlier than the Hemper Pack.
Samples include
Hemper Switch Blade Joint Clip
Assorted Twisted Hemp Wraps
Smell proof Storage Bag
Hemper Tech Cleaning Bristles
Hemper Filter Tip Booklet
Assorted Rolling Papers
Else you can shop separately for the latest bongs, vaporizers, Dab rigs, Hemper bundles, and other smoking accessories.
This is how it works:
1. You can choose which box you need based on the subscription plans
2. You decide to choose the frequency with which you want your box delivered. It is available as monthly, every 3 months, every 6 months, or yearly subscriptions.
3. Sit back and relax as the company ships your package discreetly between the 13th to 15th of every month
4. You can expect all the core essentials and a couple of surprises as well. The company has collaborations with various brands; hence you can get limited edition products.
What are the benefits of choosing Hempers?
You can customize the monthly smoking box to tailor-fit according to your needs
Receive your smoker box every month, or every three months, 6 months, or once a year.
Each box comes with the core monthly essentials, few surprise items, as well as a brand new glass piece.
They have limited-edition collaborations with top brands to keep things fresh.
You can opt for the Hemper Pack, with 7+ essential products, or you can choose the Hemper Box, which contains a mixture of both glass and paper products
You get 10+ items every month to pack in your Hemper Boxes, worth $125+ dollars
International shipping available
Shipping and Returns Policy
They do not leave their customers in the lurch and have a 7-day return policy where you will be refunded your money if you are unsatisfied. The items must be sent back within 7 days of the delivery date. Shipping is usually within 3-5 business days in the case of regular orders and for subscription boxes, you receive them by the 14th of every month. Shipping fees of $20 outside the US are applicable.
Customer Reviews
Leah Beth C. Verified Buyer
Sub: "I recommend this product"
Rated 5 out of 5
"I recommend HEMPER to ALL my friends and family!! The boxes are SUPER affordable!! Plus there are always extras to share with people. HEMPER is the gift that keeps on giving!"
Conclusion
All in all, they are a great company catering to their customers. They take care of what they add to their box and who they partner with, which is a good thing. From their regular customers, we found that you can't go wrong with Hemper. This is a reliable company which stands behind their products and strive to bring new and regular trendy smoking products for the joy of stoners.
Get more stuff like this
Subscribe and get Access to receive Freebies
Thank you for subscribing.
Something went wrong.