World's Most Expensive Diamond Encrusted Vape for an all Time 'High'
The most expensive cannabis vape is all set to blow you away. Double Barrel, one of the world's leading dual-oil chamber vaporizer which is created for sophisticated users, has come up with a luxurious $100,000 cannabis vaporizer encrusted with pavé-laid diamonds.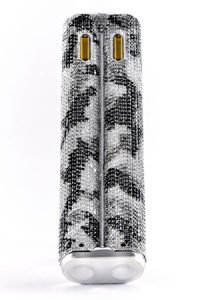 The vape has been handcrafted by a team of fine jewelry designers as well as product engineers. It is a vape which guarantees the most decadent visual and sensory experience possible, created using nearly 3,000 pavé-laid diamonds, 21 carats, and more than 3 grams of solid white gold.
Handcrafted by a team of ten fine jewelry designers and product engineers, the Diamond Double Barrel guarantees the best possible visual and vaping experience ever. It is created using around 3,000 pavé-laid diamonds 21 carats, as well as 151 grams of solid white gold. It is extremely attractive and flashy and is going to stand out in its surroundings.
According to Gerard Alexander, who is the founder of Saint Jewels, "Double Barrel presented me with an opportunity I never saw coming, to artfully execute a high-voltage accessory for the cannabis consumer who has it all. The product we made encapsulates the zeitgeist right now. The power of supreme functionality, personal style, and new wealth! I'm humbled to have contributed my learned expertise in support of this statement." He is a designer who bridges the gap between the aesthetic and the contemporary.
If you are worried over how you would operate this diamond encrusted vape, it's pretty simple. Load each chamber with one of the brand's high-end cartridges; clip on the knuckle rings which are magnetic, blow on!
Contact them for more details, or you can find its simple predecessor at $100.
It might look intimidating, but operating the vape is pretty simple: Load each custom-tuned chamber with one of the brand's premium cartridges, clip on the magnetic knuckle rings, and take a hit.
Get more stuff like this
Subscribe and get Access to receive Freebies
Thank you for subscribing.
Something went wrong.