Juul Responsible for booming E-Cigarettes Sale
Juul, despite being a relatively new entrant in the booming e-cigarette market, is making giant strides in this field in a very short span of three years. Juul is a San Francisco based company, and it has sold more than $1.29 billion vape kits and nicotine pods in the last one year. According to a Nielson data compiled by Wells Fargo, it exceeds more than half of the $2.31 billion worth sold for the entire category. Juul always maintains that its devices are more for those who wish to make a transition from smoking to less harmful devices. Despite several health warnings from health experts, industry-wide sales have of e-cigarettes increased from last year when it topped $1.3 billion during the same time last year.
Juul's growing popularity analyzed
According to Juul, they help the transition from smoking which is more harmful much smoother, hence Juul e-cigarettes are extremely in demand. They also have amazing flavors like crème Brulee and mango, which are extremely popular among college-goers and teenagers. The company sales have been boosted in the e-cigarette segment so much that the sales forecast has been upped to $6.6 billion as against the previous estimate of $5.5 billion. Other brands like Altria's MarkTen are also helping the market to grow.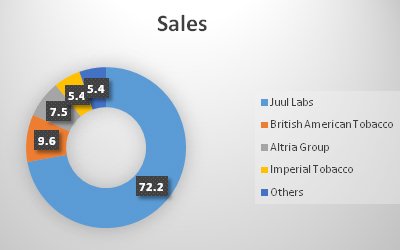 Juul dominates the U.S. e-cigarette market
Juul Labs had a massive 72.2% of dollar market share in the period ending August 2018, according to Neilsen data. It means that Juul's sales have soared 728% in the recent times. Even in the last one month, sales have soared from 70.5% to 72% mid-August.
The sleek devices of Juul and their fruity pods have become popular and have drawn criticism from schools, parents, and regulators. Many of them are using hashtags like #JuulGang and #VapeNation on social media and boasting about the number of devices they could use at once. And it is shown that some of these are linked to viral hashtags used by Juul Labs in a 2015 advertising campaign when it launched its e-devices initially.
Get more stuff like this
Subscribe and get Access to receive Freebies
Thank you for subscribing.
Something went wrong.