The Ultimate Guide to Choosing the best Nicotine Strength in eJuice
As more and more tobacco smokers are willing to quit regular cigarettes and take up vaping, it's important to choose the right nicotine strength for quitting smoking. If you're wondering what the difference is if vaping is going to contain nicotine as well, here's what you need to know. Cigarettes contain nicotine with 1000s of other hazardous chemicals while vaping can provide you nicotine avoiding other nasty stuff. Here are a guide and list of do's and don'ts which will help you choose the right nicotine strength.
Why is it important to choose the right Nicotine Strength?
It's important to choose the right nicotine strength in vaping for the following reasons.
Too much nicotine will goof up your vaping experience and put you off.
Too little nicotine will take you back to smoking and its hazardous ways.
Here are some important factors are taken into consideration when choosing the right nicotine level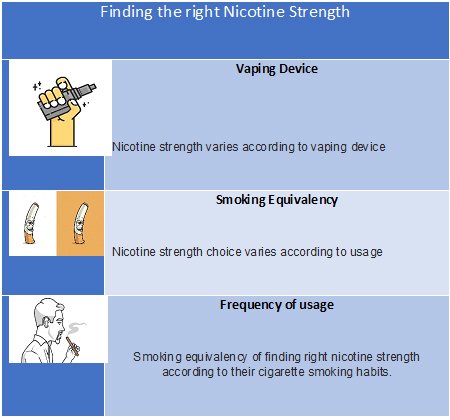 Vaping vs. Smoking – Nicotine Absorption Levels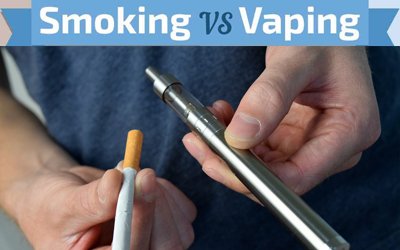 Do you know that vaping and smoking absorb nicotine differently? Smokers think that getting the nicotine strength according to cigarettes is the right way. However, you cannot be more wrong!
Basically, the amount of nicotine found in a single cigarette is around 10-12 mg and your body absorbs 1-1.5 mg of nicotine. Furthermore, vaping doesn't deliver the same amount of nicotine in the bloodstream as cigarettes.
According to researchers, vaping doesn't deliver the same nicotine as one cigarette in the bloodstream even after an hour.
Cigarettes are highly engineered to deliver nicotine as efficiently as possible. With e-juices only having 4 main ingredients (PG, VG, Flavoring, and Nicotine), it goes on to show why cigarette replacement is so tough.
However, newer generation devices have shown more success. It increased the nicotine levels in the bloodstreams by 35-72%. After half an hour, the nicotine levels were the same as cigarette smoking. The bottom line is that cigarette smoking gives you the instant satisfaction of smoking while vaping takes time.
Nicotine Strength Equivalency
It is not easy finding out the nicotine levels of vaping which are equivalent to a smoker's experience with different types of cigarettes. Every vaper absorbs nicotine differently. Here's a list of nicotine levels in vape which are equivalent to cigarette smoking experiences.
0mg/mL – This is for those who have actually downgraded their way down from higher nicotine levels. Individuals who just wish to vape without the experience of nicotine can opt for this.
3mg/mL – Suited for vapers who have stepped down, yet need to experience some nicotine in their vaping experience. Light smokers, those who have smoked less than 10 cigarettes a day can opt for this.
6mg/mL – Best suited for new vapers, and light to moderate smokers. Can also be right for those who smoke light cigarettes helping them kick the habit of smoking.
12mg/mL – Best for new vapers who were earlier heavy cigarette smokers (up to 30 cigarettes per day), or for those who smoked unfiltered cigarettes.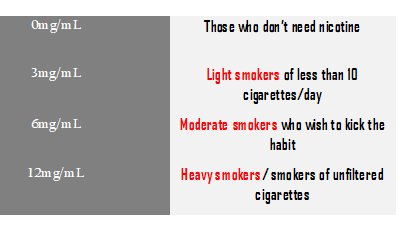 The new age vaping devices are becoming more and more efficient in delivering nicotine and flavors.The current rage in the vaping world, sub-ohm devices use high wattage batteries to increase the amount of vapor produced and also allows direct lung action on vapors. So You basically get more nicotine hits compared to other lower wattage devices. For a high wattage sub ohm device, you can use lower nicotine levels because they produce more vapors.
Many sub-ohm vapers prefer to use 3 mg or 6 mg e-juice.
Do not opt for nicotine levels above 12 mg. It gives you a harsher throat hit. This is called nicotine bite.Do not opt for 12 mg in the case of a sub-ohm device as it may cause negative symptoms like nausea, vomiting, headache, fatigue etc.
Nicotine Levels in PG E-Liquids
PG e-liquids are designed to be used with basic electronic cigarettes or vape mods with atomizer resistances above 1.0 ohms. PG liquids do not produce as much vapor
PG e-liquids are designed to be used with e-cigarettes or vape mods with higher atomizer resistances above 1.0 ohms. They do not produce as many vapors as sub-ohm devices.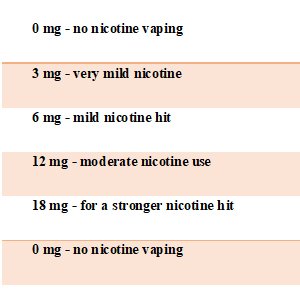 Latest Trend – Nicotine Salts
Nicotine salt is a type of nicotine utilized as a part of low wattage devices. Nicotine salts offer high nicotine quality, for example, 35 to 50 mg nicotine strength to give smokers a more real feel of smoking a cigarette. Salt-based nicotine is made to have a smoother throat hit to make vaping 50 mg nicotine attractive. Since nicotine salts are offered in high nicotine strength, these salts are intended for low wattage gadgets.
Scientists prescribe 50 mg nicotine levels for substantial smokers who have migrated into vaping. Fortunately, nicotine salt possesses all the necessary qualities and the easy to use gadgets utilized for nic salts are ideal for smokers who are new to vaping. With the rising fame of nicotine salts, first-time vapers ought to firmly consider vaping nicotine salts for a smoother progress to vaping.
The above tips should help you choose the right nicotine levels based on your requirement. Go ahead, have fun, and choose the right doses to enhance your experience.
Get more stuff like this
Subscribe and get Access to receive Freebies
Thank you for subscribing.
Something went wrong.