Top 5 High Wattage Mods of 2018 – The Complete List
We've seen a huge influx of high wattage mods enter the market with the inception of sub-ohm vaping and the popularity of huge clouds of smoke. AS more and more people are looking for high wattage mods, let's have a look at some of the best high wattage mods of 2018.
Why do some People prefer Higher Wattages for Mods?
For those of you who prefer a warmer cloud of vapor, it's necessary to turn your wattage up.
E-juices which are like desserts tend to work better at higher wattages and temperatures, letting you pick up on subtle flavors that you might have not noticed before.
When a coil is run at a higher wattage, it creates more vapor, thus giving you more nicotine per puff. If you like a nice, strong throat hit, then use a higher wattage.
Implementing more than one battery for high wattages also means more battery life – and healthier batteries in the long run.
Here's a list of top High Wattage Mods of 2018 which are above 200W+
Innokin Proton 235W TC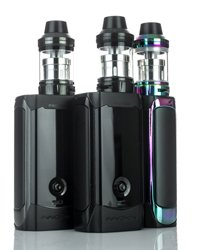 Price:$58.99
Innokin's Proton 235W TC Box Mod features an upgraded 235W chipset.
Besides this, it also boasts of a full temperature control suite, alongside a large side firing panel, as well as a unique joystick selector.
It is capable of 6 to 235W of output and has a 0.05 to 3.5 Ohm atomizer resistance. The Proton also features a 1.45″ full-color screen.
You can choose from six different colors to personalize your device; blue, red, green, pink, purple, and white.
Wattage output of the device can be controlled with a simple up and down motion on the joystick and locking the device is as simple as three clicks. The Proton Box Mod is for those looking for the looks, durability, and features that compete with today's best mods.
Proton 235W TC Box Mod Features
6 to 235W Wattage Output
0.5 to 3.5-ohm Atomizer Resistance Range
Accepts Two High Amperage 18650 Batteries
Micro USB Charging
Rincoe Manto 228W TC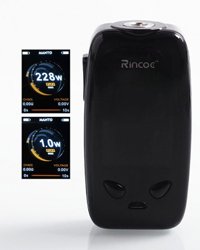 Price: $50.92 
Another top high wattage mod is the Rincoe Manto Mod which has a compact design and uses an IML panel. It is powered by dual 18650 battery and can support up to a maximum 228W output. It can be used in VW mode at the lowest resistance of 0.08ohm or 0.05ohm as the lowest resistance in TC mode. It has a 2.0inch FT color screen which displays information very clearly and is easy to read. We loved the 3D feel and different color options available.
Rincoe Manto Features
USB charging cable
Battery – 2 x 18650
3D user interface
IML device panel
Vaporesso Polar 220W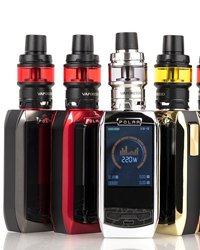 Price:$81.95
When such a quality mod is available with free shipping, who wouldn't opt for it? Its OMNI board chipset allows a maximum 220W and fire at a low of 0.03-ohm. The Vaporesso Polar MOD also allows you to completely control all of its features with the help of a 2.0" TFT full-color display. It also features a full protection suite. The Vaporesso Polar MOD is compact, yet has the capability to house dual 18650 batteries.
Vaporesso Features
Wattage Output Range: 5-220W
Atomizer Resistance Range: 0.03 to 5.0ohm
OMNI Board 4.0 Chipset
0″ TFT Full Color Display
LED Light Indicator
Smok Alien 220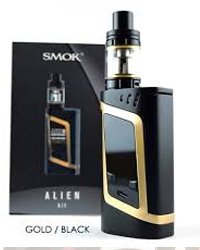 Price: $59.95
The SMOK Alien 220W TC Starter Kit is out of the world – which integrates a unique statement piece with a chipset with 220W of maximum power and full temperature regulation. It also features the widely popular TFV8 Baby Beast Tank. The new OLED display provides for extensive information within an easy-to-read operational interface. The adjustment buttons are uniquely placed. The Alien 220W is built for the superb ergonomic form factor. The chipset provides a wattage range of 6 to 220W, minimum atomizer resistance of 0.06ohm.
Smok Alien Features
Dual High-Amp 18650 Battery
Wattage Output Range: 6-220W
Temperature Range: 200-600F
Min Atomizer Resistance: 0.06ohm
Dual Battery Life Indicator
Premium Zinc Alloy Construction
Geekvape Aegis Legend Mod 200W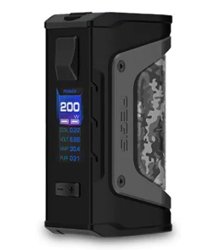 Price: $52.99
The Geek Vape Aegis Legend is part of the legacy of the epic Aegis series. The Aegis Legend is a stylish box mod which integrates an updated chassis to accommodate dual 18650 batteries. This increases maximum power output to 200W with help from the intelligent AS Chip.
It is designed to be water and shock resistance. It is compatible with dual 18650 batteries and produces up to 200W output. The mod uses up to six different materials to achieve the style and extreme durability.
Geekvape Features
Supports 2 * 18650 batteries
Wattage range: 5 – 200W
Resistance range: 0.05 – 3 ohm
TC range: 200 – 600 F
Is a high Wattage Mod right for you?
For those who like to vape at higher wattages, a mod at around 200 watts is your best option. When you Vape at lower wattages which such devices, it will get you through the whole day with the dual batteries.
Fill your favorite vape juice and produce powerful clouds. It indeed is great for long battery life, charge for a full day and thick clouds.
Get more stuff like this
Subscribe and get Access to receive Freebies
Thank you for subscribing.
Something went wrong.