Best Vaporizer Pens of 2018
Finding the top vape pens are becoming increasingly difficult since multiple factors have to be looked into. The size, material, smoke, portability and so many other factors influence the choice of vape pens. Of course, it depends on personal preferences too. So to help you sort out among the best, here's a list of the top vape pens which have been selling like hot cakes this year. We have given you all about their features, price, and availability so that you may feel it easy to choose from among the best.
JUUL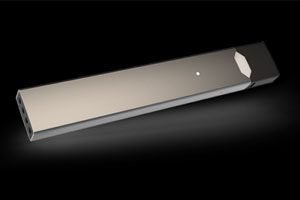 Rating Score: 9.5/10
Everywhere you see, Juul is the name you hear synonymous with vape pens. They are the hottest property in town right now. Juul's has been marketed cleverly as an alternative to smoking and has takers for its quality, durability and innovative features.
Juul vape pens are simple, easy to use and fuss-free. The JUUL body contains a battery and a temperature regulator with sensors which give readings of the devices charge level. The atomizer comes in JUUL pods which carry an ELiquid which contains nicotine salts. The JUUL salts ensure you get a fresh coil in each pod and there is no need of replacement. The pods click onto the top of the JUUL device and also serve as your mouthpiece.
Features we loved
Smart temperature regulation for heating to an optimal level of vaporization without combustion
Plenty of natural flavors
They maintain nicotine levels like a cigarette with the help of JUUL pods.
Smart-charge technology ensures it is not overcharged.
V2 Pro Series 3x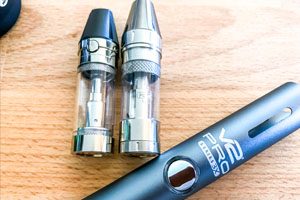 Rating Score: 9.1/10
V2 Pro Series 3X is for those e-liquid vaper lovers who love sleek looks and design. The new series comes with a variety of innovative features. Contains variable voltage and temperature to deliver a customized experience and a motion activated LED battery sensor for remaining charge. The 3X cartridges are versatile with interchangeable 0.9 sub ohm, 1.2 ohm, and 1.5-ohm atomizers. It has a ceramic heater for delivering clean as well as maximum vapors and an adjustable ring which allows more or less airflow.
Features we loved
The V2 pro pods are prefilled for your convenience and come in amazing natural flavors
LED battery sensor
Sleek design and compact
Halo Triton II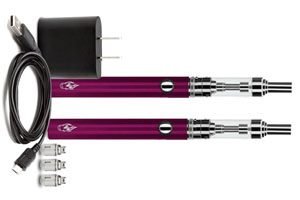 Rating Score: 8.7/10
We loved their quality and the resilience to stay on top of the vape pen industry. While JUUL has been giving them strong competition, Triton is not far behind. Triton 2's new flagship device is everything you need to enhance your vaping experience.
The Triton 2 vape kit has two batteries and tanks and is perfect for those who share their kits. It has a pre-filled cartomizer and the best part is the single button operation.
Features we loved
Best for light vapors
Smooth pulls with high quality vaping
Battery lasts a whole day
Mig Vapor Matrix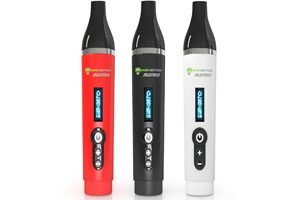 Rating Score: 8.5/10
This Matrix is unique!
It is considered one of the best portable vaporizers in the market. With this Matrix, you can enjoy dry herbs and concentrates with great precision and richness of flavor. It has a customizable temperature scale and endless options to enhance your vaping experience. It works equally well with dabs and dry herbs and contains a ceramic chamber to help you enjoy the best flavors.
Features we loved
135 different settings
Digital OLED display
Futuristic looks and design
Free shipping
KandyPens MIVA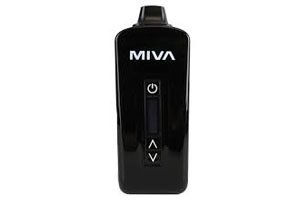 Rating Score: 8.3/10
This portable herb vaporizer uses conduction heating through a ceramic heating chamber and comes with precise temperature control. Like other vape pens, it comes with two mouthpieces. It is a generic build which is cost effective and has a glossy finish.
It has a powerful battery of 2200 mAh which is impressive for such a small unit. The vapor quality is above average at low temperatures but turns harsh when used at higher temperatures. However, this can be substituted with a new vaping accessory called Zeus Iceborn which can be attached to your vaping device. The Miva can be set anywhere in the range of 300 F to 435 F.It would be a good idea for you to get a protective casing since it is made of flimsy material.
Features we loved
Very discrete and sleek
Decent vapor output and value for money
Very simple to use and clean
MIG Vapor Herb-E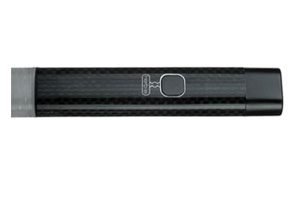 Rating Score: 8/10
The HERB-E is the smallest herb vape pen you will find in the market. It has a 1200mAh battery which pushes the amount of herb you can vape. It requires a recharge only after many uses. JUst hold the buttons for 5 seconds and start vaping.
Features we loved
Simple controls
Metal body wrapped in carbon fiber
Aerospace aluminum chamber
Endura T20-S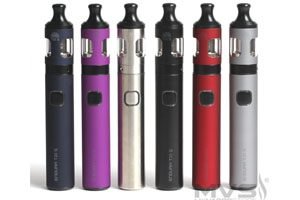 Rating Score: 7.8/10
The Endura T20-S kit comes with a 1,500mAh internal battery. It has integrated safety protection and features technology which allows you to charge as you vape. It is 132mm tall with an optimized 18-watt output and high-quality 510 connectors. The tri-color LED power indicator shows remaining power levels and also the charging status.
Features we loved
Beautiful design and feel
Tri-color LED power indicator
Vaping while charging
Get more stuff like this
Subscribe and get Access to receive Freebies
Thank you for subscribing.
Something went wrong.