Best Box Mod Brands in 2018
All you vapers out there, there's a plethora of vapes hitting the market every year and it's hard making the right choice. Choosing the right box mode (otherwise called vape mod) is important for an ultimate vaping experience.
Especially for those new to vaporizers….
Considering the varied features, pricing, functionality and many more, it's almost intimidating to look for one and that's why we've compiled this list for you. Our best vape mod list is based on those we have tested so far and also recommended by close friends and experts. Here's a list of the top box modes of 2018.
SMOK GX350 350W TC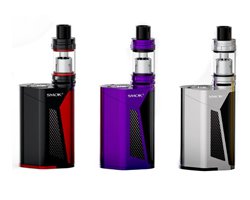 Buy Now
Our Rating
– 9.3 /10
Pricing:
$69.95
This is both the beauty and the beast! This SMOK mod kit is so powerful with its output of 300+ watts that it will blow your mind away. It has four 18650 batteries fuel the kit giving you an unbelievable 350 watts with high-quality temperature control. Despite the power and complex features, it's easy to hold and smug in your hands.
It has an advanced chipset and an OLED screen providing an ohm meter, wattage display, voltage meter, and dual battery indicators. You can customize your vaping according to requirements and hence this is not ideal for beginners.
The kit contains:
Smok TFV8 Cloud Beast
Smok GX350 Mod
V8-Q4 Coil
V8-T8 Coil
Replacement Glass Tube
User Manual
Pros
Extremely powerful box mod with a 350 watts output
There are a wide range of vaping modes
Holds up to 4 batteries
Cool design
Smok is a proven brand with advanced chipsets
Vape kit with TFV8 offers exceptional value
Cons
Heavy
Only for experienced vapers
MIG Vapor Neo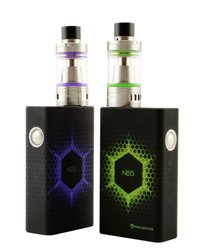 Buy Now
Our Rating
– 9/10
Pricing:
$59.95
Available in two colors, Black and Purple and Black and Green, This is a powerful 100watt sub-ohm box mod which has a superior performance and precise temperature regulation. From the advanced dual cell of 100 Watts to the 4500 mAh battery, feel an enhanced vaping experience like never before.
Best Features
100 watts dual cell
4500 mAh battery
Visually pleasing appearance
The Neo box mod is covered by a good material for solid comfort and grip. The battery automatically adjusts to the resistance of the atomizer and the box mod finds the ideal power setting. You receive a Neo sub-ohm tank (with .2 and .4 coils), so enjoy vaping right away.
MIG Vapor Neo box mod kit comes with the mod, charger, accessories, top-fill Neo tank, and two atomizer coils.
Pros:
High powered and good battery
Affordably priced for the whole kit
Durable and solid in construction
No need to adjust anything with complex buttons
Plenty of cloud
Cons:
The fire button is very small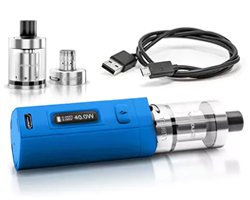 Buy Now
Our Rating
– 8.5/10
Pricing:
$49.98
This is a brand which always impresses us with their attention to detail. This is portable, tiny and packs a punch! The Trinity Box mod can comfortably hold a 1.2-ohm coil and is powered by a 1200mAh battery which allows a maximum output of 40W variable wattage mode. The kit includes one Vaporizer, one USB Charging Cord, one Standard Atomizer (1.2 Ω), one Tank, one Sub Ohm Atomizer (0.8 Ω), and a User Manual.
It is compact and has a rubber finish for durability. It's ergonomic in design and the user interface is ideal and easy for operation.
Pros
The Vapor2 Trinity allows customized vaping
It can vape in variable wattage mode, as well as temperature control mode.
Crystal-clear, OLED display
Comes with a lifetime warranty
The device can produce huge thick clouds
Works with both PG and VG e-liquids
A durable battery which has a long life.
Small, lightweight and ergonomic
Cons
Has a limitation of only 40W output
The tank capacity is quite at the lower end compared to other models.
Eleaf Basal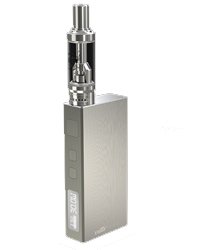 Buy Now
Our Rating
– 8.2/10
Pricing:
$44.99
A pocket-sized box mod, we found this ideal for those who are just into vaping! The Eleaf Basal has a1500 mAh battery and it has an output power up to 30 W. It can also be vaped while charging. It is simple and easy to operate. There are no complex buttons to operate and it's highly functional. We loved the beautiful metallic finish in gold, rose gold and silver. The BASAL comes with a Newall stainless steel, GS BASAL atomizer. This uses GS Air coils which are optimized for the best flavor and vaping experience and with a refined airflow system.
Pros
One of the slimmest mods
An Intuitive menu system
This is great for new vapors with no adjustments required
Looks fantastic
Good value for the price
Cons
Lacks various modes
Won't fire below 0.6 ohms
GeekVape Aegis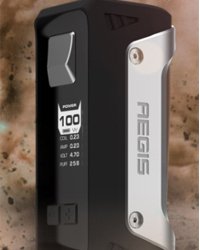 Buy Now
Our Rating
– 8.0/10
Pricing:
$63.95
An absolute stunner and complete value-for-money! The Geek Vape Aegis is a powerful box mod at an indestructible 100-watt mod and it is waterproof as well. It has a great build and is ergonomically designed. It has a maximum output of 100W and can fire down up to 0.05 ohms. There's a thick LED screen, TCR and a lot more going on. It uses an advanced chip which features the real power and instantaneous firing at 0.015 seconds.
A standard edition kit with battery contains the following:

Pros
It is a waterproof mod
Has 7 vaping modes
Runs with a single 18650 or 26650 battery
Virtually indestructible because of the sturdy build
Maximum output is a 100 watts.
Made of fine leather and nice buttons
Has a rugged steel C-frame
Cons
We've brought you the best box mods from the top brands of 2018. Hope you have a great vaping experience trying them out. Let us know your opinion and reviews.
Get more stuff like this
Subscribe and get Access to receive Freebies
Thank you for subscribing.
Something went wrong.