Top 5 Mini Vape Mods of 2018
It's said that good things come in small packages! It cannot be truer when it comes to vapes. These little devices are the most popular vape mods you can lay your hands on this year. Vape mods come in all sizes and shapes- some smaller than the other! What's with mini vape mods that they are preferred by many over conventional vapes? It's all down to their convenience and portable size. Mini vape mods are perfect for vaping in the stealth and can fit into your palms. They are as powerful as the regular vape mods, provided you choose the right ones.
For those constantly on the go and who look for portable stuff, here's a list of the top Mini Vape Mods 2018, from which you can choose the one ideal for you!
JUUL Mini Vape Kit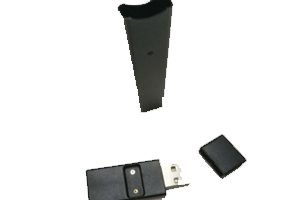 Pricing: $49.99
We loved the Juul Mini Vape for its good performance when it comes to vapor production and flavors. The slim profile of the vape makes you carry it in your pockets and it feels a similar feel compared to a traditional cigarette.
The Juul needs no buttons to operate, just a built-in sensor that detects whenever you puff, firing up immediately to deliver a good dose of flavor and vapor. The pod system in Juul helps you swap flavor pods easily and each pod holds 0.7 ml of e-liquid. The starter kit comes with 4 pods right out of the box which contains flavors consisting of Virginia Tobacco, Cool Mint, Fruit Medley, and Crème Brulee. When you buy the vape mod, you get a rechargeable Juul device, a USB Charger, and four Juul Pods.
The Starter Kit includes:
Rechargeable JUUL device
USB Charger
Four JUUL pods
Specs
JUUL Pod capacity is 0.7 ml = around 200 puffs
Wattage: estimated at around 8 W
Shipping: free when you spend $34 or more
Pricing: $44.99 for Kit – $34.99 for the device
Warranty: 1 year
| | |
| --- | --- |
| PROS | CONS |
| Small size yet powerful performance | Pods do now come in low strength |
| Magnetic USB charger | Pods tend to get loose |
| Sleek design | |
| Long battery life | |
Aspire Breeze 2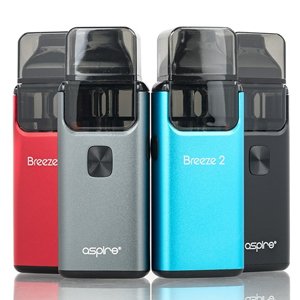 Pricing: $29.99
This mini vape "Pod" system has been designed just for using nic salt e-juice, giving this tiny vape a leg-up on the competition. You can also use this vape with regular e-juice as well. Just change out the atomizer that comes with the kit accordingly. It is everything you need to vape without carrying around a huge mod or a big bottle of juice. The Breeze comes with a 1.0-ohm U-tech coil, and a spare 0.6-ohm U-tech coil.
The Starter Kit includes:
1x Aspire Breeze 2
1x 1.0-Ohm Coil (Install when using nic salts)
1x 0.6-Ohm Coil (Install when using regular e-liquid)
4x Extra O-Rings
1x Silicone Seal
1x Micro USB Charging Cable
Specs
0ml Tank Reservoir
LED Battery Life Indicator
Aluminium Alloy Construction
| | |
| --- | --- |
| PROS | CONS |
| Made for nic salts, or regular e-juice | Clouds blown are not huge |
| Easy to Use | |
| Easy to Fill | |
| Ultra Portable | |
Halo Reactor Mini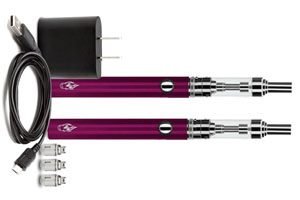 Pricing: $60.00
Those looking for a smaller vaping device will be satisfied with the Halo Reactor Mini starter kit. It comes with a vape tank of 2 ml capacity and a unique temperature control feature for an increased vaping experience. The vape has a decent output power of 40 watts, helping you blow huge clouds with the aid of the 0.5-ohm coil. This is recommended for those who wish to carry vape mods in their pockets. It packs a punch with its 2600 mAh battery and is constructed with 100% durable stainless steel.
The Reactor Mini Starter Kit Includes:
1x REACTOR 40W Battery (TC)
1x REACTOR MINI Tank (2 ml)
2x Stainless Steel Coil Heads (.5 ohm)
1x Stainless Steel Mouthpiece
1x Wide Bore Glass Mouthpiece
1x USB Adapter
1x Wall Charger
Specs
100% stainless steel
Two stainless steel coils at 0.5 Ohms
40W battery
2600 mAh battery
| | |
| --- | --- |
| PROS | CONS |
| Small, compact and lightweight. | Clouds are moderate |
| Durable Stainless steel design. | Battery life not as expected |
| Adjustable air flow and coils which last ages. | |
| Power of up to 40 watts. | |
| Includes functional buttons. |   |
Smok Alien AL85 Baby Kit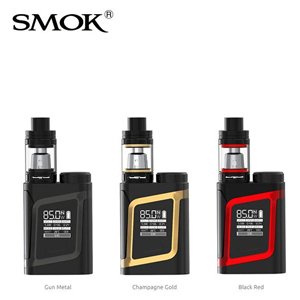 Pricing: $34.95
The SMOK AL85 Alien Starter Kit is another mini vape mod you wouldn't want to miss. It features a futuristic style and out of world look with its sleek design and two-tone color with an ultra-portable shape. The Smok AL85 features a much larger display. Those looking for mini vapes would love this compact revolutionary kit which is a delightful combo of elegant design and ample performance.
The Starter Kit Includes:
1 AL85 Mod
1 TFV8 Baby Tank (3mL capacity)
1 V8 Baby – Q2 Core Coil (0.4 Dual Coil)
1 V8 Baby – Q2 Core Coil (0.6 Dual Coil)
1 USB Charger
1 Set of spare parts
Specs
85watts
Superior Stainless Steel Construction
Super detailed screen
| | |
| --- | --- |
| PROS | CONS |
| Compact | No battery ventilation |
| Intuitive Menu | Difficulty in turning off the mod |
| Comes With TFV8 Baby Tank | |
| Removable 18650 Battery | |
| Good Battery Life |   |
Smok Priv V8 Kit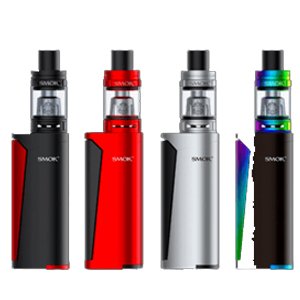 Pricing: $26.89
Another vape mod we loved, the Smok Priv V8 can manage to fit in an entire 18650 battery into its zinc alloy frame. The power output is a max of 60 watts and the resistance of the installed coil is 0.15 ohms. There is no screen, however, this makes it even more compact and gives a minimalistic look. The kit also has a TFV8 Baby tank, and an adjustable bottom airflow ring, to adjust the exact amount of airflow for the tank.
The Reactor Mini Starter Kit Includes:
1 Priv V8 Mod
1 TFV8 Baby Beast Tank (3mL capacity)
2 V8 Baby – M2 Coils (0.25 ohm)
1 Replacement Glass Tube
1 USB Charging Cable
Specs
Dimensions: 80mm x 34mm x 24.5mm
Input Voltage Range: 3.4 – 4.2V
Charging and Power LED Indicator
| | |
| --- | --- |
| PROS | CONS |
| Simple, Super Easy | No built-in battery |
| Good cloud production | |
| Good tank | |
| 4.2 volts output |   |
Get more stuff like this
Subscribe and get Access to receive Freebies
Thank you for subscribing.
Something went wrong.