E-Juice Plug Review – An Affordable Range of Flavors
E-juice plug is one of the top e-liquid wholesale and retail site based out of San Francisco and has spread since then across the USA. They sell e-juices, salt nic, the hardware necessary for e-cigarettes and the like. The company claims to personally test and taste all products before selling them. This shows their accountability and adherence to standards.  E-juices are used in E-cigarettes or Vape Device as a prominent component. It is the primary flavoring agent that enhances the intake of e-cigarettes. The solution is a mixture of VG/PG with nicotine and flavor which when heated produces smoke.
Best Products in E-Juice Plug
Why e-juice plug scores over other products?
While the market offers many e-juice brands, this one is gaining popularity due to the following reasons-
World Wide Shipping
Same Day Order Processing
Free Domestic Shipping on orders over $50
Bundle and save a facility
A wide variety of flavors
Affordable pricing and combo offers
Easy to use interface
Favorable returns policy
What are the best products available?
Butter Brew by Yami Vapor is a butterscotch flavored e-juice that can be enjoyed hot or cold. Its different in a good way and is light so it brings out the flavor in a delicate manner.
Coffee Tobacco by Ruthless Premium Tobacco is a personal cup of the rich taste of coffee and tobacco entwined in one delicious juice. The nicotine levels are 0mg, 3mg, and 6mg thus serving all ranges of needs.
EZ Duz It E-Juice by Ruthless Vapor is a mixture of strawberries and watermelon. It gives a fantastic fruity taste and has a mild throat hit. The watermelon flavor is very deep and it produces huge clouds of vapor. The nicotine levels range from 0mg to 12 mg making it suitable for all types of smokers.
Suorin Drop Starter Kit is an ultra portable system that's versatile and has a maximum of 13W output. It is a convenient, simple, all in one system designed for vapers of all types.
Chocolate Milk by Choco Cow is a fresh blend of milk and chocolate combined to get a rich taste of creamy chocolate when inhaled. It gives a good throat hit and comes with nicotine levels of 0mg-6mg.
Shipping and Returns
All products are shipped within 1-3 days. Shipping, however, is not available in New York and Arkansas due to sales prohibition. The customer care is also available 24/7 for all queries. They are a responsive team which solves issues immediately.
Testimonials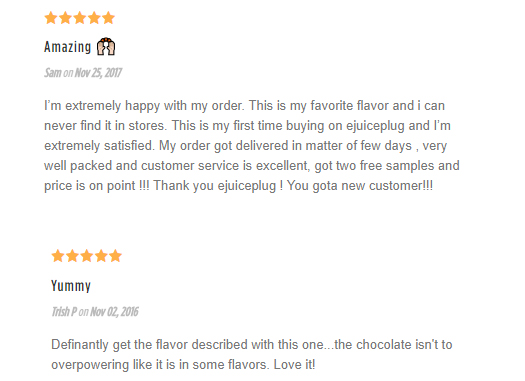 How much Nicotine is present in each flavor?
Each e-juice plug has different levels of nicotine and with a different intensity. Mostly they range about 0mg, 3 mg, 6mg and 12 mg. Nicotine is addictive and may cause harm if taken beyond permissible limits. It caters to all kinds of vapers from beginners to those who are experts at vaping.
Bottom line
E-Juice Plug has many brands like Salt E, Naked 100, Salt Factory and Salt Nic. They have exotic flavors and are appealing to vapers.  They have salt based nicotine which gives a smoother throat hit as compared to freebased nicotine. On subscription, one gets to use and avail the offers and deals making it more affordable. The interface is easy to use and products are added fortnightly. The brand is growing slowly for their customer friendly tactics and policies. They also have a blog where they post information on product usage and precautions, if any.  E-juice plug is thus a haven for a delectable range of e-liquids and all commodities.
Get more stuff like this
Subscribe and get Access to receive Freebies
Thank you for subscribing.
Something went wrong.