Direct Vapor Store Review – Amazing Products at Great Prices
A vaper always looks for amazing products at great prices with high quality to get a satisfying vaping experience. With increasing health awareness, vaping has generally increased and there are too many players in the industry. However, not many stand up to their claims of product perfection and purity. Finding the right site is thus important to ensure one knows what they are taking and is hassle free. Direct vapor has become a reliable site in the vaping industry. The competitive prices, great deals, and value for customers make it a go-to website for vapers. They showcase vape mods, vaporizers, and e-liquids from premium brands. They also sell mods, coils, drip tips, rebuilding tools and other frills. Direct Vapor has almost everything from the beginner's start-up kit to an advanced device. Let us know more about the website.
Top Products in Direct Vapor Store
What makes Direct Vapor popular?
LOW PRICES: Direct Vapor is offering one of the lowest prices in the industry and markets themselves like that. They maintain that a customer cannot find a store that sells the same product at a lower price. This comes with a guaranteed challenge. If you find an item that is lower on another site, they need to be sent evidence to receive the difference or match that price.
FREE SHIPPING: They offer free shipping on all orders irrespective of minimum value. This is beneficial for those who want to order limited quantities for a trial or taste purposes. Beginners of vaping can take advantage of this. This flexibility offered by them wins some brownie points.
PRODUCT QUALITY: Direct Vapor is a no-clone area. That is the products sold are of good quality and are 100% genuine. No copies or fake products are sold through the site. A product needs to be of the best quality as they are complex and require the right materials of high quality for efficient performance.
WARRANTY POLICY: The site offers customers a 60-day manufacturer's warranty for products with defects or wrong products. One can send unopened products back to the company at free shipping.
BLOG INFO: They have a blog which gives you the right info on how to use a product. This gives the user all idea on how to vape and best products as per various categories.
CUSTOMER SERVICE: Direct Vapor offers a 24/7 customer service for all. This bridges the gap between the sellers and the buyers. This also ensures customer satisfaction and interest on the site to sustain.
DEALS AND OFFERS: They have a 10% off generally running on their site and on subscription, one is made aware of all latest products, additions on site, brand reviews and best offers.
What are the popular products on Direct Vapor?
Products on Direct Vapor are encompassed in brands and type or utility of the product. They sell from basic to high-end products for vapers of all levels.
Their Popular Products Include:
Eleaf iJust 3 80W starter kit– It is a simple, slim device which is portable and works best for beginners. The flavor is also good and enhances the taste very well.It is a sub-ohm starter kit that even increases your learning curve with respect to e-cigarettes.
E-liquid is available in plenty with respect to even variety. ANML and Bam Bams Cannoli are the best sellers. Another popular favorite is Motley Brew's Grateful Red e-liquid. One can also choose a sample pack of this premium brand to determine which your favorite is.
Innokin LiftBox Bastion Squonk Vape MOD has safety features including a battery protection socket and is best for advanced smokers who really want it out there.
KayfunV5 RTA by SvoeMesto is a sub-Ohm tank is a powerful RTA that has an impressive vape Juice capacity and has an innovative airflow control system designed for the best experience.
Testimonials
Most customers have had a positive shopping experience and have come loyal shoppers on the site. Here are few evidences-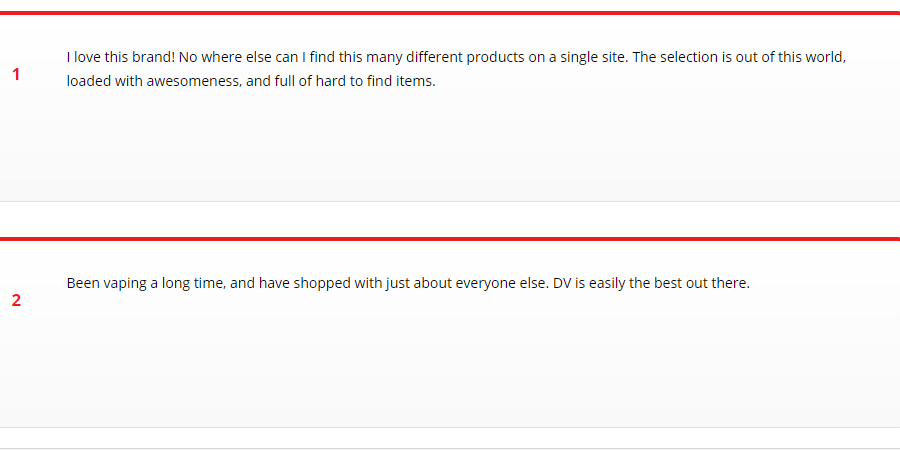 BOTTOMLINE
Direct Vapor provides impressive services at low prices and thus guarantees the customer a good experience. The site is colorful, user friendly and contains knowledge about Vaping. It does justice to both beginners and old timers to serve their needs. The free shipping is the cherry on the cake for any vaper. There are special deals and new product alerts for subscribers making it a must visit a store for anyone who vapes.
Get more stuff like this
Subscribe and get Access to receive Freebies
Thank you for subscribing.
Something went wrong.