VaporFi Review – Wide Variety at Affordable Prices
Nowadays Vaping has emerged as the new fad among youth, ex-smokers and those who are just looking for a puff. Many vaping products are crowding the market to capitalize on this craze. One of them is VaporFI. It is an offshoot arm of the International Vapor Group Inc. They provide a variety of products suited for all levels of vapers. Be it beginners or experienced, there is merchandise for all.
Best VaporFi Products
What makes VaporFi Popular?
Sales cum educational portal as VaporFi customers can meet experts physically and seek help about any problem areas, what brands to choose from and the like.
A wide range of products from e-liquids to accessories.
One can be a Vapetender and mix flavors to create his or her own flavor
Brands hubspot as Brands like SMOK, Eleaf, Sigelei, SX Mini,iJoy, Innokin and Aspire Vape are few among the many that find a place on the site.
100% made in USA nicotine e-liquid that doesn't compromise on quality
The liquid base is of USP grade Kosher materials that are diacetyl-free.
VetFran is their new membership franchise for veterans and thus gives them a second career opportunity.
Incredible high standards of customer service that is 24/7 efficient and works as per customer specifications
It has a huge chain of Brick and Mortar physical stores so this is a dual concept. That makes it beneficial for those who like to check the quality of what they are vaping.
Social media presence especially Instagram has really made this brand popular.
What are the Best Products on VaporFi?
VaporFi Pro 3 Vape Starter Kit is their best product and has won applause. It is a medium tank with a mouth to lung technology, 2-ohm resistance atomizer that produces maximum flavor. This is perfect for beginners and comes in many colors viz Green, red, pink, blue and silver. It is user-friendly has a leak proof design and is reasonably priced. It is portable and has a pyrex glass section that makes it very effective.
VaporFi Orbit Dry Herb Vaporizer is a vape pen that is quite bulky and has a USB port that gives it an instantly appealing design. It is long lasting and comes with five replaceable mesh filters and mouthpiece covers. There is also a user manual on how to use the product which gives it a lot of definition. The LED feature is attractive and the silicone piece won't let it burn your lips. It has an amazing battery life and is also suited for group vaping.
VaporFi E-liquids are clear 30 ml plastic bottles with oodles of flavor. They have a small spout which is perfect for reaching all places. It is professionally labeled and has clear information on nicotine content, ingredients, warnings and volume. Made in the USA, they are FDA registered lab formulas concocted into a concentrated liquid. Strawberry cheesecake and crackers are one flavor that has been getting rave reviews.
What is VaporFi's guarantee policy?
They offer a 30-day money back guarantee on items purchased through their website. VaporFi asserts that the satisfaction of the customers is the priority and one can return the products for a full refund on the purchase price. This, however, is only for VaporFi's home brand products.
Shipping Policy
VaporFi is one of those gems who offer free domestic shipping within the US on all orders without any minimum amount. They have one of the fastest processing times. They are usually shipped on the same day for orders placed by 12 pm EST. Expedited shipping may take up to 5-7 days for delivery. Their home delivery program is unparalleled and they offer 10% off on all future purchases for members. This is applicable for subscribers and those who order frequently.
Testimonials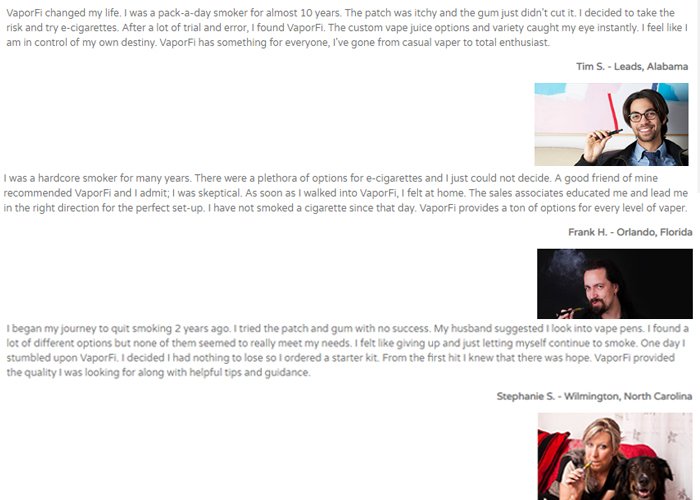 Conclusion
VaporFi is a good brand that has a good user interface, attractive design and also provides products across physical locations. This makes it a perfect mix of online and offline sales support system. Their pricing is effective and is affordable for the quality they provide. Thus on the cost parameter, they score. The devices are comfortable to use, portable and look nice. In all, VaporFi is a dynamic site for all vaping needs that doesn't burn a hole in your pocket or your mouth.
Get more stuff like this
Subscribe and get Access to receive Freebies
Thank you for subscribing.
Something went wrong.