Top 5 High Performance 18650 Battery Chargers for Vaping 2018
A vaping device has some important components and the most important of them all is the heart- the battery. The quality of a charger is vital for a good vape device. One should along with choosing the best device, select a good battery. Many vape pens use great quality material but have a bad battery system. Without a power source such as a battery, the vape kit is useless. While choosing a vaping battery charger device, one should consider so many factors. The most important factors to be considered are-
A charger should be accurate in dealing with the battery. On overcharging, the long-term life of the battery is reduced.
A charger should be one that is safe to handle your batteries. A charger is one that should safely discharge the right amount of power and care to the battery.
A charger should be speedy and if a battery can be quickly charged, nothing like it.
18650 batteries are cells that are rechargeable and power high performance-based electronics. They are best for e-cigarettes and vaporizers and give the best high-end performance.
What are the advantages of a 18650-Battery Charger?
They can be recharged
They are strong and adaptable
Some can be used as a power bank
It comes with an LCD or LED display
A wide range of charging rates
Bluetooth connectivity
The 5 best 18650 battery chargers for vaping are-
Xtar VC4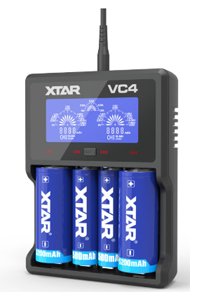 Buy Now
This is a modern battery charger that uses amazing technology to safely and speedily charge up to 4 vape batteries. It can charge enormous sizes and can even detect voltage. It adjusts the charge rate as per situations and this makes it faster, efficient and more powerful. It has an LCD screen and a display of current amperage, active channels, and other features. It has a zero-activation facet where even dead batteries can be revived. It has a USB cable and a good slot base. The cut off voltage is 4.20V and operates 0-40 degree Celsius.
Price: $25.32
Efest LUC V4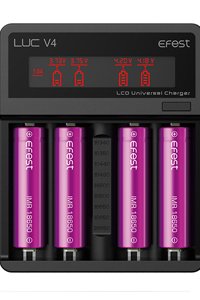 Buy Now
It is a potent device that can charge up to 4 batteries and offers short circuit, over-discharge, overcharges and over-voltage protection. It comes with a USB output and can turn into a power bank to charge batteries on the go if need be. It has a car adapter along with a wall charger and one can view current amperage, charging levels and voltage. It has a LED screen and can hold almost 4 batteries. It is best for vapers and is reasonably priced and can act as a power bank as well. It has a three-year warranty and an auto-stop mode.
Price: $26.92
Nitecore SC2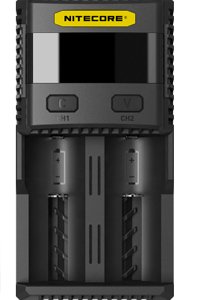 Buy Now
This safe and efficient piece is an all in all. It is a powerful and mighty charger that is speedy and intelligent. It can charge 3000mAh battery and comes with flexible charging options. It is very compatible and it comes with auto temperature monitoring. It has reverse polarity and comes with auto-detection of non-chargeable batteries. It is a great safety piece and temperature operates between 0-40 degree Celsius.
Price: $39.95
Enova Gyrfalcon All-88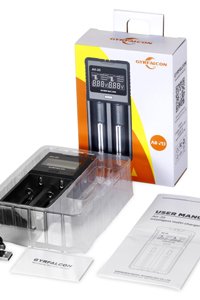 Buy Now
This is an intelligent charger for Lithium-ion(Li-ion) batteries. It has a highly interactive LCD screen and shows all the parameters and indicators. It comes with an auto power off function and has a good battery compatibility. Flexible charging, safety measures, and a great board compatibility are its factors. It is best for group vapers and is quite portable. A number of charging channels is 8.
Price: $55.90
Xtar VC2 Plus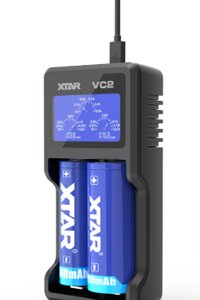 Buy Now
This is a safe, durable, efficient product. It is a universal, powerful charger that works for all Li-ion batteries. An LCD screen displays real-time information and has an auto-recharge and auto-stop mode. It has a soft start technology to protect it against shocks. It prevents jolts and has a reverse polarity protection and a 0V activation for safe operation. It has 2 charging channels and a high-temperature resistance. It operates between 0-40 degree Celsius.
Price: $22.00
Using a good charger is important as a cheap charger can cause the death of vape batteries. One spends enormous amounts on good devices and a bad charger cab drain your battery life. A charger is usually a long-term investment and investing in the right one with some research is important to productively charge your batteries.
Get more stuff like this
Subscribe and get Access to receive Freebies
Thank you for subscribing.
Something went wrong.