Top 5 Best Atomizers for Chain Vaping
We all know vaping is the best alternative to smoking and is slowly becoming the most preferred fad. But one can often get used to it so much that they turn into chain vapers. Chain vaping, much akin to chain-smoking, is ceaselessly vaping without putting your device down almost throughout the day. This is more like a healthier version of cigarette chain smoking. A chain vaper is someone whose e-cig is always lighted up. This leads to a lot of heat generation and it is of primary importance that the vape pen has to be of good quality. Since an average chain vaper takes about 180 puffs per day, it is important to use good material and quality products to reduce heat generated. For chain-vaping, the most important component is the atomizer. A good atomizer will mean a better experience for chain vapers. Atomizers that use heat resistant wires are the optimum ones for chain vaping.
What is an Atomizer?
An atomizer is essentially a heating coil made of resistance wire that creates vapor from e-liquids. They are made of various materials like nickel, stainless steel, titanium, and kanthal among others. Titanium and Stainless steel heat up slowly and thus are the best for chain vaping.
Why is a good quality Atomizer important while Chain Vaping?
To prevent burn-outs and eventual burning of vape pen
To extend the lifespan of your coil
To get a good drag as a good atomizer will allow for reabsorption of liquid
With a burnt atomizer/coil, one feels like they are inhaling burnt papers and are left with a burnt taste, a premium atomizer will avoid that
A good coil will last for a longer time as compared to cheaper ones, this will save costs.
It will also give you an amazing wind of the flavors while vaping.
What are the best atomizers for chain vaping?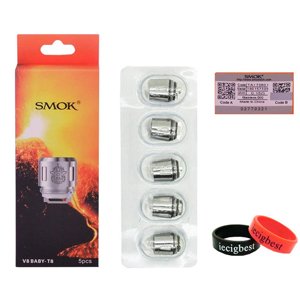 Buy Now
This atomizer is known for its deep tastes and powerful heat resistance capacities. It is made of stainless steel and is from the well-known brand SMOK. These beast range coils accommodate up to 110W and offer a coil configuration for a purer flavor. They are very strong and work to suit the needs of chain vapers. This will keep the PCB temperature down for longer periods of time and not result in overheating.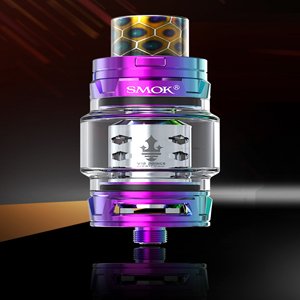 Buy Now
This is a great tank and is powerfully loaded with three coils-Prince Q4, T10, and X6. This is a stainless steel coil with 8 ml capacity. It does not burn out easily and will give the much-required cloud and flavor during chain smoking. It has a heating membrane unit that innovatively has a greater surface absorption due to its porous structure. This will heat it more evenly and help intake the e-juice more quickly. This atomizer also activates the e-juice and brings about a good vaping experience.
Horizon Falcon Sub Ohm tank Atomizer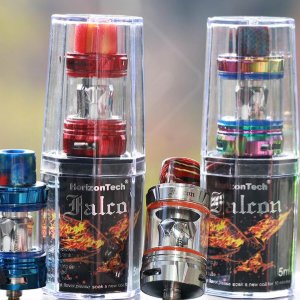 Buy Now
This is a great atomizer which has a great tank design and has a capacity of almost 5ml e-juice. The coil is an innovative removable one and this works best for chain vapers. The USP is that the coils are made to withstand wattage of 70-80 W and this will get the best flavors. It has an innovative drip tip and is highly heat resistant.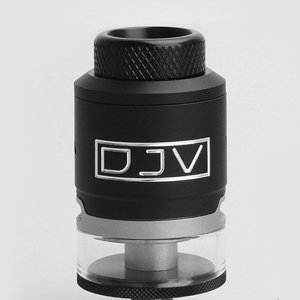 Buy Now
This RDTA is a unique piece that has a built-up deck with 6 holes. This is for dual coils using a 510 thread which works as a convenient leak-proof design. It has a side airflow control which is adjustable and gives a nice flavor. These are removable atomizers and so can be cleaned well. One can prime them and add e-liquid as well.
Digiflavor Siren 2 MTL GTA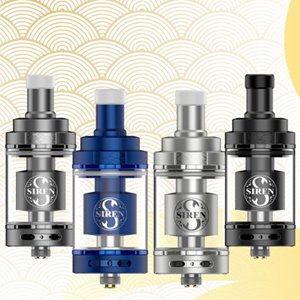 Buy Now
This premium rebuildable atomizer has an adjustable airflow system at the bottom and has an upgraded build deck and this has wider coil compatibility. This is easy to light up and has a chamber for intense flavor. It has 9 airflow adjustment options and is available in various colors.
Final Thoughts
When you choose your atomizer, one should prioritize experience, vaping style, budget and amount of time to get the perfect product. It is important to choose the best atomizers to not ruin your vaping experience. Chain vapers, in particular, need to use high-quality coils to avoid burning out and getting a burnt taste in your mouth. Chain vapers using good atomizers will also get a good taste and smoke whirls.
Get more stuff like this
Subscribe and get Access to receive Freebies
Thank you for subscribing.
Something went wrong.